This is one of the best safaris you will ever experience in your life
To Enquire Please Click Here
or email us This email address is being protected from spambots. You need JavaScript enabled to view it.
or call/whattup us on +254722125052
Day 1 - Nairobi, flight to Amboseli At 06:00 a.m, transfer to Wilson Airport (WIL) for your scheduled flight to Amboseli National Park, departing at 07:30 a.m. to arrive at 08:10 a.m. On arrival, you are met and transferred to Tortilis Luxury Camp with game drive en route. After lunch, an afternoon game follows. Dinner and overnight at the camp. -

Day 2 - Amboseli The whole day will be spent in Amboseli with morning and afternoon game drives. The majestic and breathtaking Mount Kilimanjaro can be seen at this time. All meals and overnight at Tortilis Luxury Camp. -

Day 3 - Amboseli, flight from Nairobi to Samburu After breakfast at the lodge, transfer to the airstrip for your scheduled flight to Nairobi departing at 08:20 a.m. to arrive at 09:00 a.m. Connect to your Samburu flight departing at 09:15 a.m. to arrive at 10:30 a.m. Meet at the airstrip by the host and transfer to Elephant Bedroom Luxury Camp. Lunch and afternoon game drive. Dinner and overnight at the camp. -

Day 4 - Samburu Full day spent in Samburu with morning and afternoon game drives. All meals and overnight at Elephant Bedroom Luxury Camp. -

Day 5 - Samburu, flight to Maasai Mara After breakfast at camp, transfer to the airstrip for your scheduled flight to Maasai Mara National Reserve, departing at 08:30 a.m. to arrive at 10:15 a.m. Meet at the airstrip and transfer to Entim Luxury Camp with game drive en route. After lunch, proceed to an afternoon game drive. Dinner and overnight the luxury camp -

Day 6 - Maasai Mara After early morning tea or coffee, proceed for an early morning game drive followed by a Hippo Pool breakfast served by the Mara River teeming with hippos. The rest of the morning is at leisure. After lunch at the lodge, an afternoon game drive follows. Dinner and overnight at Entim Luxury Camp. -

Day 7 - Maasai Mara, flight to Nairobi After breakfast, transfer to the airstrip for your scheduled Nairobi flight departing at 10:15 a.m. to arrive at 12:15 p.m. Meet at Wilson Airport and transfer to your Nairobi hotel or Jomo Kenyatta Airport for your international flight home.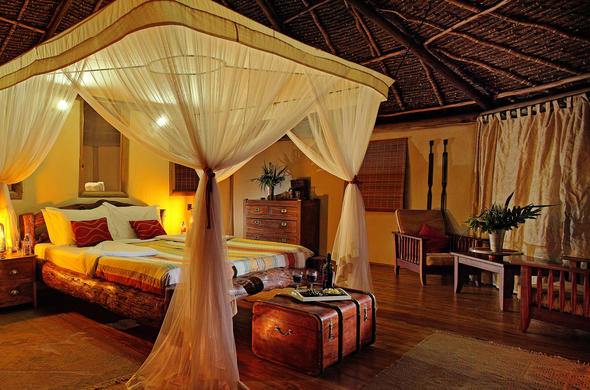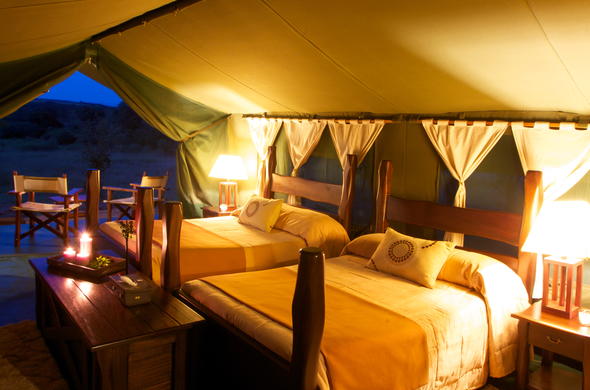 Best of Luxury Accommodation

You will be provided seven nights of accommodation in twin rooms during the safari. You will stay at Tortilis Luxury Camp, Elephant Bedroom Luxury Camp, and Entim Luxury Camp.

Tortilis Luxury Camp
Lying on the edge of Amboseli National Park is Tortilis Camp, a unique boutique camp. The camp is located on the hillside and shaded by the natural forest of the acacia tortilis thorn trees after which the camp is named. With views of the sunset over Kilimanjaro and Mount Meru, the camp is an ideal location for relaxation, for adventure, for people on a honeymoon, or for a family vacation.

Tortilis Camp houses 16 classic tents and a cozy family tent, all designed in a manner which blends rustic style and modern comfort. The tents are spacious and fitted with king or twin beds and elegant en suite bathrooms. A main lounge, bar, and dining area exquisitely built with natural materials with thatched roofs and magnificent views of Kilimanjaro.

The camp provides bush breakfast and sundowners upon request. Services and facilities available at the camp include in-room safes, outdoor, or personalized dinning, a bar that serves both locally brewed and world class drinks.

A swimming pool is available onsite. The camp offers activities such as game drives, guided walks, and cultural visits upon request. Tortilis Camp is on the south western edge of Amboseli National Park and a silver level eco-rated camp. The camp is also a winner of the British Airways "Tourism for Tomorrow" award.Click here for Tortillas Gallery

Elephant Bedroom Camp
Elephant Bedroom Camp is an intimate tented camp with simplistic elegance, luxury, and style providing an astonishing safari experience. The surrounding Samburu National Reserve is an area of spectacular scenery. Its dry plains bisected by the meandering river, with the backdrop of Africa's dramatic mountains, including Mt Kenya.

The 12 spacious tents have rustic and colorful African touches, offering all the comforts, including a private plunge pool on the deck, hot and cold running water, electricity, and complimentary herbal shower and bath products.

The lounge and dining area is decorated with vibrant safari style, its soft intimate lighting assuring that this is the ultimate place to relax in between exciting game drives. Elephant, monkeys, impalas are among the camp's many regular wild visitors, while Samburu National Reserve has a good number of lions and leopards and offers the opportunity to see many species endemic to northern Kenya.

Entim Luxury Camp
Entim was designed with a purpose in mind: to be in the best possible location to view the wildebeest migration in the Maasai Mara game reserve. All 10 guest tents overlook the Mara River and are well-placed, en-suite with flush toilets and hot showers. There is a cozy lounge area with a small library, separate bar, and dining area, which is open-fronted allowing guests to experience of eating meals while watching the animals move to and from the river to drink and forage for their food.

The camp has been designed to give guests the feel that it is part of the landscape. The experience at Entim is not your average hotel or lodge experience, but it is about being right in the hub of one of the most famous wildlife reserves in the world and part of a quintessential Kenya safari experience.
Incredible Kenya Adventure Tours & Safaris Luxury Safari Holidays Itinerary

Location
This safari holiday will be held at various parks and game reserves located in Kenya, namely Amboseli National Park, Samburu Game Reserve, and Maasai Mara Game Reserve.
This safari features three major parks: the Amboseli National Park which is famous for the breathtaking views of Mt. Kilimanjaro and the great herd of elephants; the Samburu Game Reserve which is a unique park to the north of the equator with rugged landscapes and home to rarely found species such as the Beisa Oryx, Gravy's zebra, blue-necked Somali ostrich, and reticulated giraffe; and the Maasai Mara Game Reserve which is one of the Kenya's most popular game reserve and home to the big five, the lion, leopard, buffalo, rhino, and elephant.

Food
You will be served three daily meals daily, except on the first and seventh day. On the first day of the safari, only lunch and dinner are provided, and on the seventh day of the retreat, only breakfast will be provided.
The following meals are included:
    Breakfast
    Lunch
    Dinner

The following dietary requirement(s) are served and/or catered for:

    Regular (typically includes meat and fish)
If you have special dietary requirements it's a good idea to communicate to US when making a reservation

PRICES $4979 PER PERSON SHARING.

What's included
⦁        Full board accommodation
⦁        Game drives provided by the lodge on a shared vehicle basis
⦁        Guided bush walks
⦁        Internal airfare as indicated in the itinerary
⦁        Park entry fees
⦁        Wilson Airport (WIL) and airstrip transfers

Whats not included
⦁    obtaining visa
⦁    Things of personal nature
⦁    INTERNATIONAL FLIGHTS
Incredible Kenya Adventure Tours & Safaris will pick you up from the airport.
Cancellation Policy

    A reservation requires a deposit of 50% of the total price.
    The deposit is non-refundable, if the booking is cancelled.
    The rest of the payment should be paid 7 days before arrival.
To Enquire Please Click Here
or email us This email address is being protected from spambots. You need JavaScript enabled to view it.
or call us on +254722125052
THANK YOU